REGISTRATIONS – 5th Symposium edition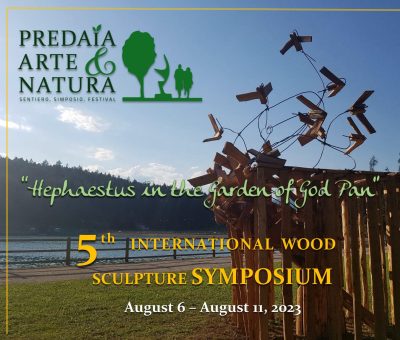 Registrations for the fifth edition are open!
Based on the successful experiences of previous editions, the A.S.U.C. di Coredo and the Municipality of Predaia will propose and carry out, during the week from Sunday 6 August to Friday 11 August 2023, the FIFTH EDITION of the re-enactment project of wood tradition: "Predaia Arte e Natura" .
The theme of the 2023 edition is:
"Hephaestus in the Garden of God Pan"
The theme of the fifth edition of the Predaia Arte e Natura project is inspired by the encounter of elements of different nature. Often the mixture of different worlds (not just materials) can give life to unexpected works.

PAN, was the divinity linked to the forests and nature. HEPHESTUS was instead the divinity of fire, forges, engineering, sculpture and metallurgy.

With this theme, through the symbolic reference to Greek mythology, we want to enhance proposals that highlight the coexistence, through the material use or even just conceptual, of the natural world and that linked to metallurgy and fire.
The project will be followed, also this year, by the artistic director Gianni Mascotti of the Marte studio.
Therefore, on Sunday 6th August, the fifth edition of the Sculpture Symposium "Predaia Arte e Natura" will open, born from the strong experience of the past 17 editions of the sculpture competition "Il legno riprende vita". Once again, therefore, the hamlet of Coredo will be transformed into a wood workshop, where 7 international sculptors will be able to give free rein to their art. International sculptors will be selected on the basis of a preliminary project.
The artists will have the splendid opportunity to sculpt the trunks at the suggestive shores of Lake Coredo.
The works, as soon as the Symposium is finished, will be immediately positioned along one of the numerous tree-lined paths that branch off from the wonderful "Viale dei Sogni", placed on special elevations in Corten steel. Over the years and in the next editions, numerous and easy artistic-cultural paths will be continuously expanded and developed, open to the public of all ages and physical conditions.
The documentation must be submitted:
by Monday March 20, 2023
The Regulations and the registration form are available below: