4th Symposium edition – from 1 to 6 August 2022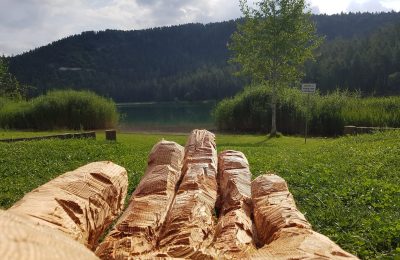 Everything is ready for the fourth edition of the Sculpture Symposium!
Based on the successful experiences of previous editions, the A.S.U.C. di Coredo and the Municipality of Predaia will propose and carry out, during the week from Monday 1 August to Saturday 6 August 2022, the FOURTH EDITION of the re-enactment project of wood tradition: "Predaia Arte e Natura – path, symposium, festival" .
The project will be followed, also this year, by the artistic director Gianni Mascotti of the Marte studio.
Therefore, on Monday 1st August, the fourth edition of the Sculpture Symposium "Predaia Arte e Natura" will open, born from the strong experience of the past 17 editions of the sculpture competition "Il legno riprende vita". Once again, therefore, the hamlet of Coredo will be transformed into a wood workshop, where 6 international sculptors will be able to give free rein to their art. International sculptors will be selected on the basis of a preliminary project.
The artists will have the splendid opportunity to sculpt the trunks at the suggestive shores of Lake Coredo.
The works, as soon as the Symposium is finished, will be immediately positioned along one of the numerous tree-lined paths that branch off from the wonderful "Viale dei Sogni", placed on special elevations in Corten steel. Over the years and in the next editions, numerous and easy artistic-cultural paths will be continuously expanded and developed, open to the public of all ages and physical conditions.
This edition's theme will be:
"SHAPES AND COLORS: NATURE, MASTER OF MIXING "
The Application form, with all the required documentation, must be submitted by MONDAY MARCH 14, 2022 to:
Comune di Predaia – Ufficio Cultura
Piazza Cigni 1 fraz. Coredo
38012 Predaia TN – ITALY
Registration requests can be sent: